On June 14, 2022, the Eye & Ear Foundation hosted a night of celebration in honor of Jonas T. Johnson, MD: surgeon, educator, and innovator. After 42 years at the University of Pittsburgh School of Medicine, 16 of which were as Chairman of the Department of Otolaryngology, Dr. Johnson is stepping down and will focus the next phase of his life on caring for the patients of the UPMC Survivorship Clinic he co-founded in 2016.
Held at the Duquesne Club, love and laughter filled the room. Admiration, appreciation, and respect for the guest of honor were practically tangible. Approximately 120 people from different parts of Dr. Johnson's life were in attendance: His supportive family, past patients, the EEF Board of Directors, faculty, alumni, UPMC dignitaries, and Survivorship staff. Perhaps surprising no one, Dr. Johnson made sure to greet every guest as they arrived.
Rick Purcell played piano during the Cocktail Hour. EEF CEO Lawton Snyder was the emcee. The speakers were great, humorous, and in awe of all of Dr. Johnson's accomplishments. His dedication to patient care was often mentioned, along with his being a great surgeon. His 120-page CV was also acknowledged. The speakers included:
G. Nicholas Beckwith, III, Chairman, UPMC Board of Directors, Co-founder, The Beckwith Institute
Anantha Shekhar, MD, PhD, Senior Vice Chancellor for the Health Sciences, John and Gertrude Petersen Dean, School of Medicine, University of Pittsburgh, Board of Directors, EEF
Joon S. Lee, MD, Executive Vice President, UPMC, President, UPMC Physician Services, Vice Dean for Clinical Affairs, University of Pittsburgh School of Medicine
Jennifer Grandis, MD; Distinguished Professor, Otolaryngology-Head and Neck Surgery, Associate Vice Chair, Clinical and Translational Research, University of California, San Francisco
Lawrence Gumberg, President, LG Realty Advisors, Inc., Board of Directors, EEF
Marci Nilsen, PhD, RN, Assistant Professor of Acute and Tertiary Care, School of Nursing, University of Pittsburgh, Co-Director, UPMC Survivorship Clinic
Dr. Johnson was the last to speak. At that point, he was presented with a check for Survivorship by Carole Kamin on behalf of the Ladies Hospital Aid Society, which was matched by EEF Board member Dr. E. Ronald Salvitti. Funds raised from the event will also go towards the Survivorship program. EEF also has a new Survivorship fund as fundraising continues for Survivorship, called the Jonas T. Johnson MD Survivorship Program.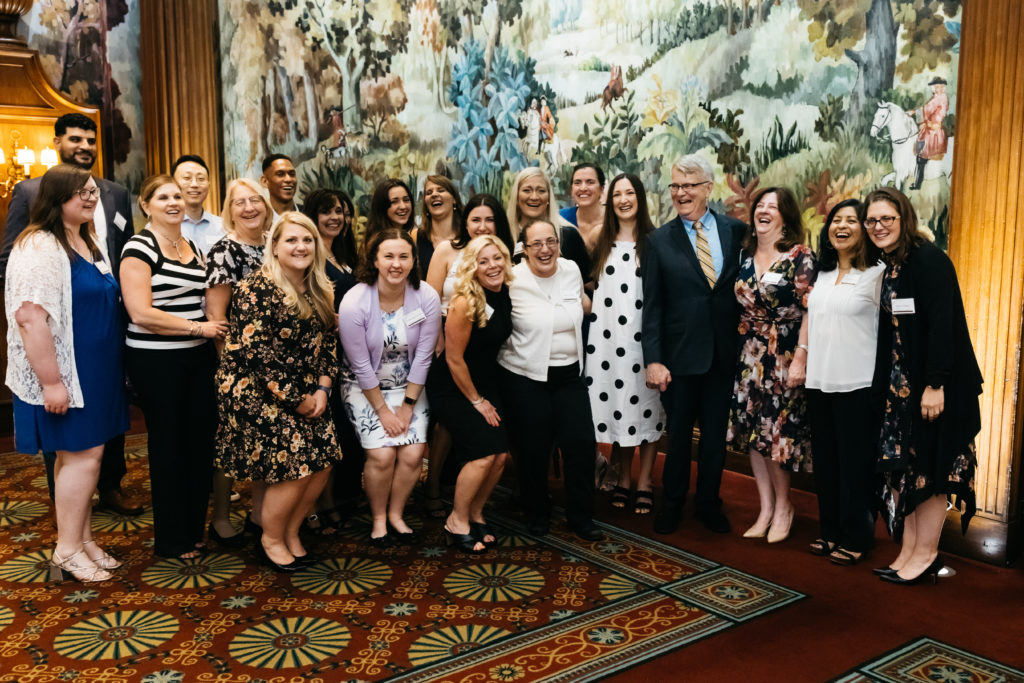 Snyder called the celebration one of the most enjoyable moments for not just him but the whole EEF team. "The celebration was just like Dr. Johnson – warm, caring, and full of life," he said. "What I think we also felt, which was more of a challenge, is that we reached the end of an era with Dr. Johnson as the Chairman of Otolaryngology. We have all enjoyed working with him, and we have cherished everything we have accomplished together. However, we look forward to continuing to work with him to make survivorship his legacy."
As for Dr. Johnson, he said after reflecting upon the event, that his life in medicine has taught him that change is normal. "New information informs us," he added. "We must all study what we do and look for opportunities to enhance and improve."