In the Eye & Ear Foundation's October 20th webinar, "A Modern Era of Excellence in Otolaryngology/Head and Neck Surgery," the new Department of Otolaryngology Chair José P. Zevallos, MD, MPH, FACS, shared his background and talked about current and future advancements in otolaryngology.
"I look forward to implementing a new vision that will introduce a new and modern era of otolaryngology/head and neck surgery to the University of Pittsburgh and building upon an already incredibly strong department," he said. "It's an exciting time here as we rethink or reevaluate and grow from our strengths and make it even stronger."
Dr. Zevallos' Story
Dr. Zevallos was born in Lima, Peru. When he was seven, his father was offered a scholarship to study engineering in England. The family moved there for two years; his father was there for four. Things in Peru were unstable because of terrorism when they returned. When his father was offered a job at Bell Labs in New Jersey, the family settled there.
Dr. Zevallos' family is international, with family in Italy, a brother in Copenhagen, another brother in Chicago, and a sister in NY. They visit Peru often.
Dr. Zevallos received his undergraduate degree from Middlebury College in Vermont, followed by medical school at Rutgers. He trained at Baylor College of Medicine and learned how to be a head and neck surgeon at MD Anderson Cancer Center. A fellowship in NYC at Mount Sinai was followed by time at UNC. Then he was recruited to be division chief of head and neck surgery and to run the head and neck cancer service at Washington University in St. Louis. He was there for six years before coming to Pittsburgh.
"It's been a long road across the country, but I've really been blessed to have some incredible mentorship and support to get my family to where we are today," Dr. Zevallos said.
Family
Dr. Zevallos comes from a family of doctors. He is the eighth doctor in his family. Most of his relatives have been pulmonologists. His grandfather was a pulmonologist in Peru during the heart of the tuberculosis epidemic. Two uncles worked in cancer pathology in a hospital that is like the National Cancer Institute of Peru. An aunt is an internist in Germany, and an uncle is a pulmonologist in Dallas. His mother is a social worker, and his dad, the engineer, is the only one of his six siblings that did not become a physician.
Family is a big part of Dr. Zevallos' life. He moved to Pittsburgh with his wife Juliet, and his three kids, Lena, Jose Miguel, and Louisa, and their dog Zoe. He showed several photos, including of them skiing, which they love. The family is settling in and enjoying their time in Pittsburgh.
Dr. Zevallos said that he has been fortunate to have incredible opportunities to train with some of the legends of the specialty, including Jeff Myers, the son of Gene Myers, first chair of the department.
Previous Role
Prior to coming to Pittsburgh, Dr. Zevallos was Chief of Head and Neck Surgical Oncology Division, Washington University School of Medicine in St. Louis. He was Director of the Head and Neck Cancer Service, Siteman Cancer Center. In addition to having a head and neck cancer and thyroid practice, he also had a NCI R01-funded laboratory focused on molecular biomarker development and was PI of multiple study protocols in Head and Neck Cancer.
"Most importantly, I'm a head and neck surgeon," Dr. Zevallos said. "Even though I now have this leadership position and I'm an administrator, to some degree I will never stop being a head and neck cancer surgeon. Everything I do in terms of my professional career is defined by my experience taking care of patients, whether it be my research or my focus. The beauty of a position like this, in my mind at least, is that I get to help people through some very difficult times as their surgeon. I'm able to implement a change and vision for the entirety of the department that has a much broader impact on patients beyond just my patients. That's a big part of who I am as a surgeon scientist."
Unprecedented Translational Research Growth in Head and Neck Cancer at Washington University
Part of Dr. Zevallos' job at Washington University was to recruit and build up translational science. He focused on team building, research infrastructure, and interdepartmental collaboration to promote the growth of others.
Under his leadership:
Recruitment of two surgeon-scientists and two PhD scientists
Divisional funding

2 NCI R01s (Zevallos, Major)

2 K-awards (K01, K08) (Puram, Mazul)

10 Foundation grants (>$3 million)

3 surgeon-led investigator-initiated clinical trials (Zevallos, Puram, Jackson)
$1 million in funding from Merck Investigator Studies Program (Zevallos)
Head and Neck Tissue Acquisition Protocol (>1000 biospecimens banked)
Part of his vision for Pittsburgh is to grow the department even more in the same direction. As Program Director, Advanced Head and Neck and Microvascular Reconstructive Surgery Fellowship, Washington University School of Medicine, he trained some young stars who have gone on to great institutions in the past several years.
"Our role in academic medicine is to do research and help patients but also to educate the next generation of leaders in otolaryngology," Dr. Zevallos said. "I'm very happy to be able to continue that mission here at the University of Pittsburgh."
Research
Dr. Zevallos began his research career doing a lot of work in epidemiology, which is the study of how disease affects populations. Recently, he looked at HPV vaccination in U.S. veterans. In a study that's going out for publication now, they found that veteran vaccination rates were less than half of what they are among non-veterans. "This is an alarming finding, given that this vaccine will prevent many head and neck cancers as well as other HPV-associated cancers," he said.
More recently, Dr. Zevallos has developed an interest in biomarker development – using tumor DNA to evaluate the risk of recurrence of cancer in blood. They also started looking at that similar signal in surgical drain fluid. For about 100 years, this was thrown in the garbage as bio waste. But in his Washington University lab, they discovered that if the fluid is evaluated closely, there are remnant cancer cells that can predict the risk of cancer recurrence. "This could hopefully one day allow us to define the next steps and treatment after surgery, radiation, immunotherapy, and chemotherapy," Dr. Zevallos said.
Biotech Start-Up Founder and Entrepreneur
Dr. Zevallos started a company in January 2021 called Droplet Biosciences. It is the only liquid biopsy company founded by a surgeon. The seed round in May 2021 garnered $6 million. Series A planning is underway for 2023. Dr. Zevallos called this endeavor a lot of fun. "We're really advancing some of the research we started in the lab," he said. "Now we're in the commercialization space to try to get it to patients faster."
Dr. Zevallos is also an early member of a company called Vine Medical, a soft robotics company based in Stanford and Santa Barbara, California. "We're still in a little bit of stealth mode right now, but there is exciting soft robotics technology coming down the pike that will have an impact on the way we do endoscopy," he said.
Department of Today
The Department of Otolaryngology at the University of Pittsburgh School of Medicine is a leading medical school and university known for surgical innovation. It includes:
Head and neck surgery
Pediatric otolaryngology/middle ear physiology
Skull base surgery
Neuro-otology
Gene Myers, the first chair, and Jonas Johnson, the second chair, are both head and neck surgeons who built this place into the premiere place for research, innovation, and clinical care when it comes to head and neck cancer. "In many ways, Gene Myers defined modern head and neck surgery for the rest of the world," Dr. Zevallos said. "And Jonas Johnson, my immediate predecessor, also a very well-known head and neck surgeon, really has opened our eyes to the impact of treatment for head and neck cancer on overall survivorship."
Hillman Cancer Center and the UPMC Healthcare System are also instrumental in the department's success.
Vision and Mission
Vision: To be the global leader in surgical innovation, research impact, and training in otolaryngology/head and neck surgery.
Mission: To create a modern academic otolaryngology department focused on providing exceptional patient care, advancing our field through discovery, and training a new and diverse generation of Pittsburgh otolaryngology leaders.
Values
Patient care first
Diversity and inclusion
Accountability
Scholarship
Dr. Zevallos said he is focusing on scholarship today.
Departmental Priorities and Initiatives
Improving the Efficiency of Care and the Patient Experience
"While we can create very novel and innovative treatments for patients, if we can't get patients to come in through the door and see the right doctor at the right time at the right place, then the treatment that we're offering doesn't necessarily mean as much," Dr. Zevallos said.
Coordination of complex tertiary-level care can be challenging
Patient navigator program

Coordination of visits across complex system

Bridge the impatient-outpatient divide

Improving access to otolaryngologic care in the community through new technology
When patients leave the hospital, the goal is to make sure they are ready to face the challenges that come with their disease and take the next steps in their treatment to optimize their outcomes.
Alignment with the Head and Neck Cancer Research Program at Hillman
We are THE national leaders in head and neck cancer translational research
Our department will play an increasing role in the Head and Neck Cancer SPORE

More translational research investigators

Building a research infrastructure in the Department to interface with SPORE program
SPORE is a highly coveted and very competitive programmatic grant from the NIH to help fund programs that have promise and are really moving the needle on curing head and neck cancer. There are only five in the country; one is in Pittsburgh.
Population Sciences in Head and Neck Cancer
Dr. Zevallos is excited about growing this public health aspect of head and neck cancer. This means:
Access to head and neck cancer care
Understanding head and neck cancer disparities
Improving primary and secondary prevention
Vision: create a population-based western Pennsylvania case-control study on head and neck cancer, rapid case ascertainment program
He has recruited his Washington University colleague, Angela L. Mazul, PhD, MPH, a head and neck cancer epidemiologist, to work in this area.
Leveraging UPMC Clinical Analytics
The majority of HPV-associated cancers in the U.S. are throat cancers or cancers that Dr. Zevallos treats. "We need to be doing a better job not just at creating incredibly novel immunotherapies and new treatments for this cancer, but we have to be better at preventing it, especially given that we have a tool that will do so," Dr. Zevallos said. "It's a matter of us having the courage and willingness to really implement these tools into our populations."
Data rich environment for improving clinical operations, 40 hospitals, health plan, clinical data warehouse
Research tool

Primary and secondary prevention of head and neck cancer

Building case-control and cohort studies beyond a single institution

Initiatives

Rapid case ascertainment program

HPV vaccination alert program
An analyst will be embedded into the UPMC data group.
Pittsburgh Hearing Research Center
One thing that attracted Dr. Zevallos to Pittsburgh was the "incredible program we already have in place in hearing sciences." The PHRC started five years ago and is led by Thanos Tzounopoulos. Everyone on the team is a scientist with a PhD. The entire focus is understanding why people have hearing loss and what to do about it. It is a top three program, and maybe even the top department for hearing sciences in the entire country, Dr. Zevallos said.
The Problem
Hearing loss: an unmet basic science and clinical need. Huge opportunity for basic research, innovation, translation, and commercialization
Hearing loss and dementia
Approximately 1 in 3 people in the US between ages of 65-74 has hearing loss, and nearly half of those older than 75 have difficulty hearing
Age-dependent hearing loss is the most heavily contributing modifiable risk factor to dementia
The need for prevention, intervention, and rehabilitation is crucial for the improvement of quality of life of many million Americans
When it comes to hearing loss related disorders, there is an unmet clinical need. Take tinnitus, for example. About 50 million Americans have it, which makes it the highest service-connected disability. Hearing loss and tinnitus have been difficult to address, but now new tools are being developed clinically.
PHRC Accomplishments
Hired 3 tenure-track academic stars and 2 non-tenure-track faculty in the last 4 years
45 total publications, many in high-impact journals: Science Advances, Neuron, Nature Communications, Proc National Academy Science USA, eLife, Current Biology, Journal of Neuroscience
Awarded $3.9 million grants per year
4 patents
"You've built a great group, really one of the top hearing research teams in the country." – External evaluator Dr. Lawrence Lustig, Howard W. Smith Professor and Chair, Department of Otolaryngology, Columbia University, Oct 2020 Review
What's Next? PHRC 2.0
Vision: To develop hearing sciences research incubator that leads the country in academic excellence, innovation and commercialization and to serve our population
Mission: Top-notch basic science research and education to drive innovation, translation, and commercialization. This includes:
Therapeutics
Neuroprosthetics
Gene therapy
Brain rehabilitation
PHRC 2.0 Current Targets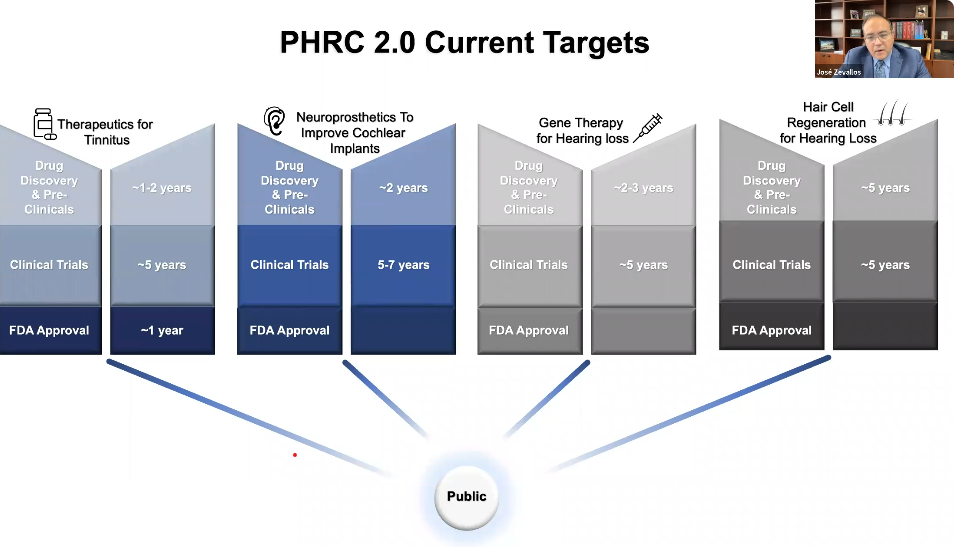 Tzounopoulos and his partners in the Pharmacy Department have developed a new drug that may help reduce tinnitus. They are working with the School of Medicine to refine it to a point where it will have real impact on patients.
An investigator has been working on creating direct feedback loops to improve how cochlear implants work. There are clinical trials and plans to move things forward.
Gene therapy is an exciting area as we now have the ability to delete or include genes that may be damaged or missing to help restore function. There is interesting data developing around gene therapy for hearing loss under certain genetic conditions that lead to hearing loss from birth.
With the help of the Eye & Ear Foundation, the Department, along with the School of Medicine, is actively recruiting a new investigator who works on hair cell regeneration. When hair cells are damaged, hearing loss results. If you cannot regenerate them, they are gone. The goal is to find ways to regenerate hair cells to restore hearing.
Joint PhD Program in Hearing and Visual Sciences
Collaboration between Otolaryngology and Ophthalmology
Train students in basic and translational aspects of hearing and vision science, mentorship from clinician scientists

Anatomical and functional components of the auditory

Speech and visual pathways

Neural mechanisms and perception and cognition
Reinvestment in Surgical Innovation, Education, and Entrepreneurship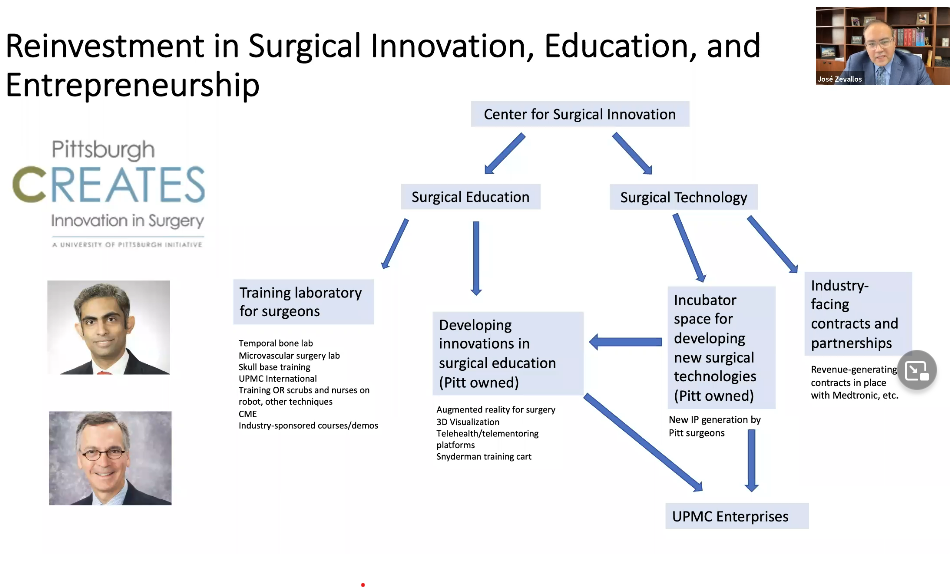 "I want us to be the inventors as opposed to the early adopters," Dr. Zevallos said. He wants to redesign CREATES and work with CREATES leadership to focus more and more on generating new ideas, new inventions, and providing this to the world.