The Department of Ophthalmology at the University of Pittsburgh School of Medicine is trying to increase access to ophthalmic care in Pittsburgh and its surrounding communities. Discussing their efforts were Evan Waxman, Andrew Williams, Sabrina Mukhtar, and Dana McGinnis-Thomas in the Eye & Ear Foundation's November 29th webinar entitled, "Taking the First Step: Improving Access to Care in Ophthalmology."
Andrew Williams, MD, Assistant Professor of Ophthalmology, said the department is taking one step at a time to understand the problem of access to care and to really address the needs of the community.
Access to Eye Care
Access to eye care is the timely use of personal health services. It depends on individuals (income, education, disability) and environment (location and number of providers). To improve access, we need to assess barriers to care, which are tied closely with social determinants of health.
Social Determinants of Health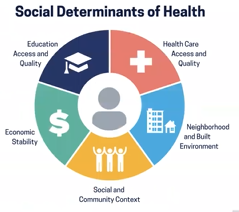 These are defined as the conditions in the environments where people are born, live, learn, work, and play, comprised of five domains that are all relevant to eye care.
Understanding Barriers to Care in Our Community
At the Mission of Mercy event, attendees were surveyed. Three fourths had at least one barrier, which wasn't surprising. When asked what barriers they had to seeing an eye doctor, common themes emerged:
Cost/insurance
Navigating the system for appointments
Transportation
Provider accessibility
The group published an article based on its findings, called "Addressing Social Determinants of Vision Health." Read our Sight + Sound article for more.
"Access to care is more than just appointment slots and putting people in them," Dr. Williams said. "It's really understanding all the individual social factors and barriers that folks face in maintaining those appointments."
Roadmap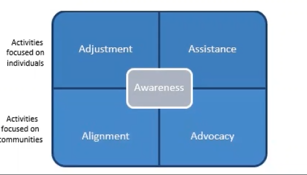 Increasing awareness of social determinants of health and barriers to care rely on four things: Adjustment, assistance, alignment, and advocacy.
Awareness
Patients' social needs must be identified. In the clinic, this involves social risk screening questionnaires, which have a high patient acceptability. The UPMC Eye Center now uses them. Outside of the clinic, this means acquiring data, education, and outreach.
Assistance
Patients must be connected with social resources. The Department's Patient Navigator helps with this, as the liaison between the patient, healthcare system, and community. Dana McGinnis-Thomas accepts referrals across the department and assists patients with identified needs.
A recent study found that she received 130 referrals for 125 patients over a 3-month period. Of that group, 98% were resolved with intervention, and 90% with resolution. It is a highly successful program with 4.87/5 patient satisfaction.
McGinnis-Thomas sometimes meets patients face to face. If they have already left the office for the day, she follows up in about 1-2 days to discuss their barriers and work with them to find the best solution for their situation. It requires creative thinking along with a lot of problem solving. Follow-up is required.
"Building trusting relationships with the patient and community partners is critical to successful patient navigation," she said.
Adjustment
Clinical care must be provided that accommodates social barriers, like adapting written education materials with attention to health literacy and offering telemedicine appointments.
Alignment
Services must be coordinated with the community. Two examples of community vision outreach are the Guerrilla Eye Service and Mission of Mercy.
Guerrilla Eye Service
Dr. Jake Waxman MD, PhD, Professor of Ophthalmology and Vice Chair, Medical and Resident Education, in the Department of Ophthalmology, Director of UPMC Eye Center at Mercy Hospital is also the Founder and Director of the Guerrilla Eye Service.
The Guerrilla Eye Service was established in 2006 to provide comprehensive eye exams at 10 primary care clinics at no charge. A primary care team schedules patients and keeps records. It is run by medical students and residents with faculty oversight. A travel van with portable equipment delivers care to patients. The number of sites is quickly growing. Continuity of care is provided, with each site visited several times. A new position of Community Service Coordinator has also been added, filled by Katie Cecconi.
A study measured impact. In a review of 360 patients, 214 were prescribed glasses, 1/3 of diabetic patients had retinopathy, and 1/3 were referred for further evaluation.
Mission of Mercy
This annual two-day event was historically for dental services. Vision screening was added in October 2021. In 2021, 273 patients were seen for eye care, with 233 eyeglasses prescribed and 42 follow up appointments made. In 2022, over 700 patients were seen with 681 free eyeglasses prescribed and 79 follow up appointments made.
Advocacy
Policies must be promoted to address health and social needs. This means promoting investment in research in health disparities and community-engaged research and advocating for policies that advance access to eye care.
Future Initiatives
Integrative eye center

Partnerships to address food security and transportation barriers

Community partnership

Expand on health literacy programs

Continue to measure outcomes